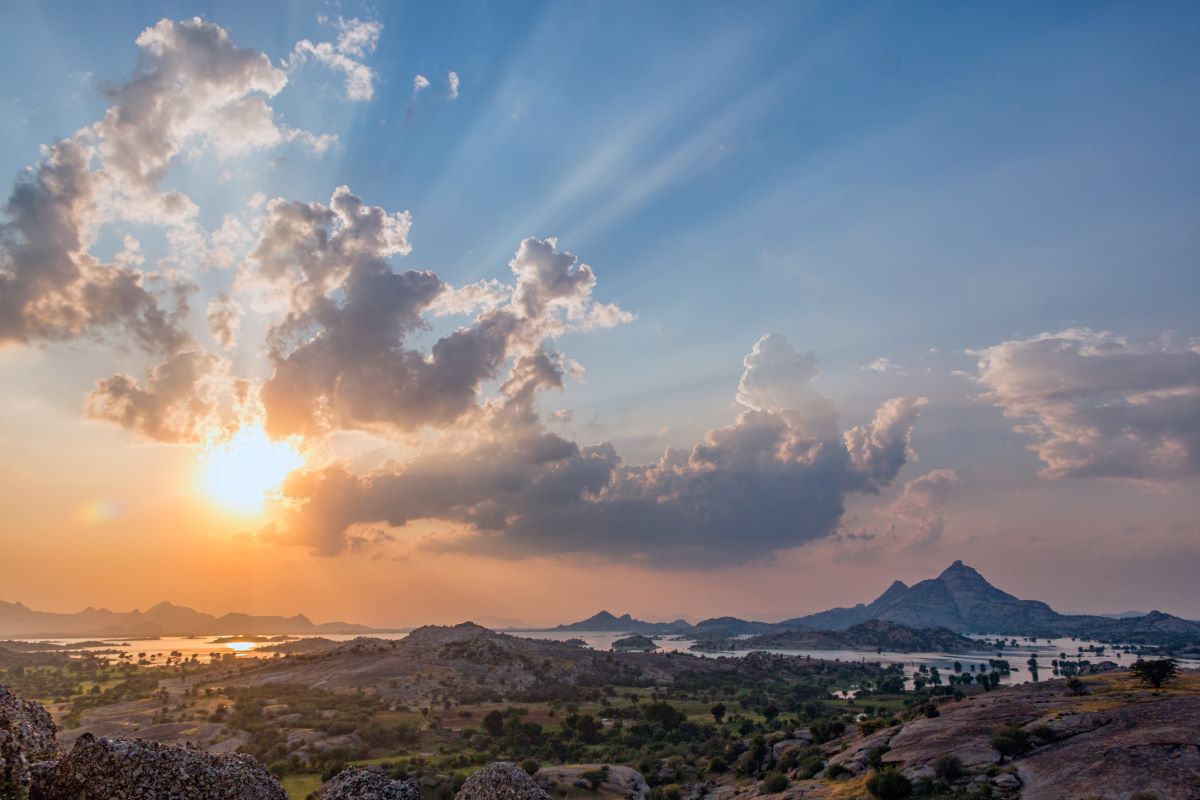 Post-lockdown, our lifestyle will change. Our traveling strategies will upgrade. And the destinations of our travel will gain a whole new perspective. Even after the lockdown, you'd want to play safe and avoid crowded places. Social distancing will still make to the top of the priority list. Discovering such an ideal destination is not an easy task. A Travel destination in Rajasthan were you can stay close to nature seems to be the best option. Visit wildlife sanctuaries, go camping in isolation away from the "shor of the city", eat organic home-cooked food, and to get yourself back in the game, probably get a little adventurous. Such ideal destinations exist and are the most desirable destinations that you should choose post-lockdown. If you want to be a lone wolf, be one right now and make a bucket-list for yourself!
As the pandemic hit the world in the most unexpected way, thousands of travelers around the world were forced to delay their travel plans and lock themselves up in their homes for a period of 2-3 months (which they haven't done in almost a decade). Travelers' minds and souls must've gotten frustrated because of the restriction of the only thing they love to do. Remember that, COVID-19 is just an unwanted cataclysmic situation that seemed to occur in the most dreadful manner. Don't let the fear auto-install itself. Let the positivity in. Pandemics never end well, but eventually, they end at some point. The pandemic is temporary, but your dream of traveling the world is permanent!
One such destination is Jawai in Rajasthan. An outright-packaged one, where you have all at one place. In Jawai, you can find the perfect amalgam of nature and wildlife, camping, and adventurous safaris. One can enjoy their solitude for as long as they want or listen to unbelievable stories of the bond between the wildlife and community, narrated by the folks here. It is an experience that is raw and beautiful. The fact that there hasn't been a single leopard attack here, is astonishing. Leopards and the 'Rabari' community lives in harmony and peace. The existence of leopards and other wildlife hasn't affected the community in any harmful manner. Also, the community praises leopards in the face of God.
Other than spotting leopards, you can also witness a huge flock of migratory birds here. Along with calling this place, the 'Land of Leopards', the Jawai dam is also called as 'The Land of Flamingos'. The flamingos look as if they're painting the water with their feet. Watching them just makes you feel as if the whole world around you, has faded and you still wouldn't care about it. You'll find yourself longing for this beautiful sight as soon as you leave it. No concert, no song will bring you the sigh of relief the way listening to these flamingos will!
There is a huge amount of wildlife in Jawai. Along with leopards, you'll also find striped hyenas, hedgehogs, jungle cats, Indian fox, crocodiles and many more. There is huge variety of birds too. Other than the wildlife, Jawai has physiography; which so authentic and exquisite that you'd boast about it to everyone after you click pictures that look surreal. Yes, it's a paradise for photographers and artists!
Well, Jawai is a developing tourist destination and every wildlife enthusiast would want to visit this place once in their lifetime. Though there are a number of hotels and camping ventures in the area, you should still be careful while choosing the one you'd want to stay at. You'd want to choose something that firstly, doesn't compromise with any levels of hygiene and is not crowded. Choose the one with least number of tents. You don't have to come in contact with much people then. Secondly, choose the one that promises to give you a primordial experience of nature and wildlife rather than make it like a nightmare for you. One such venture is Varawal Leopard Camp.
Varawal Leopard Camp provides you the most extraordinary experience when it comes to safaris, comfort, wildlife and food. Their safaris, along with being adventurous, are knowledgeable. Most of the times the host travels along, but at times when he doesn't, the drivers will enlighten you with all the knowledge they've acquired about the leopards or the other wildlife. The host and the staff are warm and welcoming. They have exciting stories to share. When it comes to comfort, Varawal Leopard Camp has luxurious Swiss cottage tents with all the amenities included. Their food is organic, and most of the vegetables and spices are grown on their own farm that surrounds the camp. They've built a whole different eco-system altogether. Also, their packages are flexible and can be changed according to your requirement.
As soon as COVID-19 ends, hit your nearest airport and fly all the way here. You'd be amazed to see what this place has to offer you. Most people even call it paradise. I found my inspiration here. I found an inevitable urge to run behind what I loved to do. That is what the place does to you. It sets you on a different journey altogether. You'll feel more liberated than you already are!
Visit www.varawalleopardcamp.com soon or book your stay at bookvarawal@gmail.com You can even WhatsApp them on +91 7742133581
The part of you that'll fall in love with the leopards will definitely bring you here. It is just buried deep down inside your soul and you just have to pull it up to have the most phenomenal vacation of your life!
I am an engineering student with a developed passion of writing over the years. I love to scribble mostly about my own experiences. I stand strong on the belief that writing can a make a person vulnerable and resilient at the same time. My strongest urge to write what I feel is undeniably resolute. Loves to explore books, music and stories at anytime of the day.