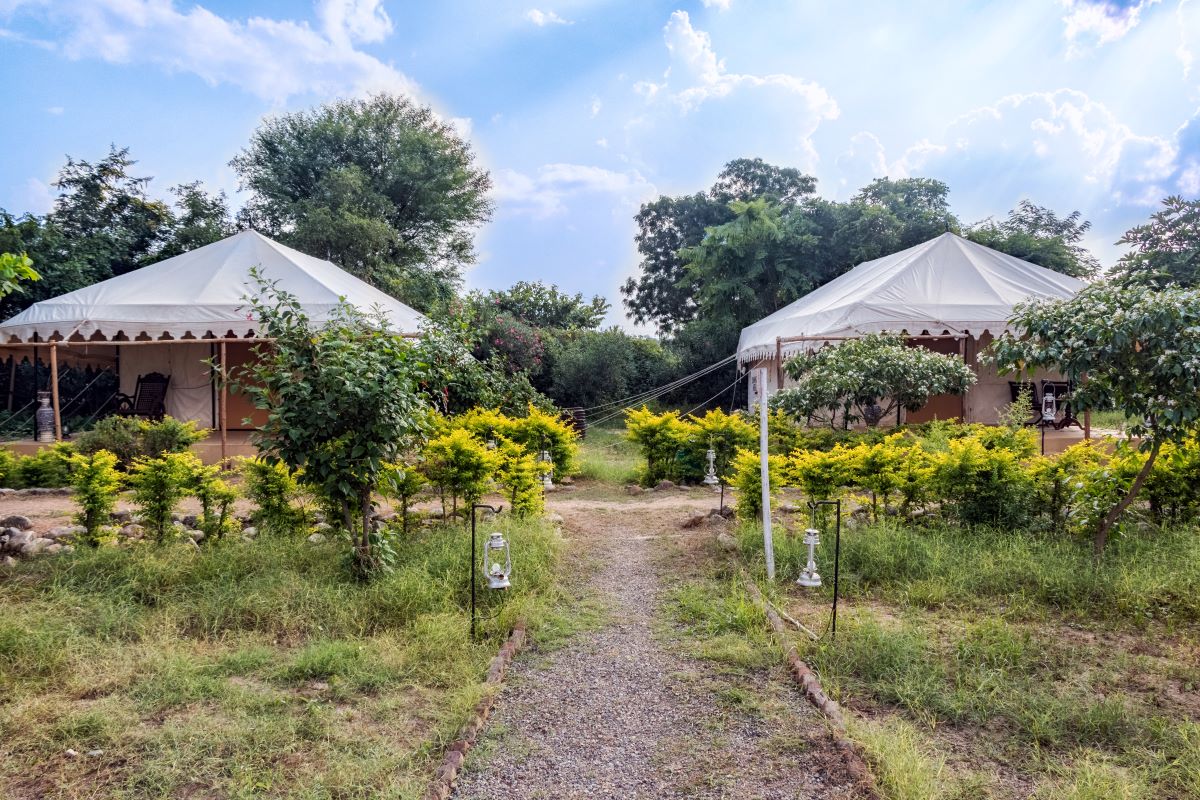 Best Hotel to Stay in Jawai – Varawal Leopard Camp
"Hospitality is simply an opportunity to show love and care", and this is what I endorse to believe in.
I'd traveled to Jawai with a group of friends and after the longest journey to reach this beautiful destination of Jawai, all my energy had drained completely. For years, I've lived in cities and had never thought of staying in villages. The thought of spending two complete days in a village in Rajasthan made me anxious. Although, I was impressed with the hospitality I'd received at Varawal Leopard Camp, as I heard that Varawal is the Best hotel to stay in Jawai.
A PINCH OF INFORMATION ON JAWAI
I'd learnt about Jawai from a friend and was curious to visit this place. For all those who don't know, Jawai has a mystifying blend of the most natural elements that are present on this planet. It provides an unbelievably mesmerizing view of the Aravali ranges, the Jawai hills and the Jawai dam. Surf through the internet and you'll know that Jawai hills were naturally formed millions of years ago when the lava broke down into rocks. Apart from any other hills or ranges, these rock formations are home to the leaps of leopards and many other wild animals. These rocks have caves inside them as huge as the size of any 2-3BHK apartments that we live in, or sometimes even larger than that. This whole area is known as 'The Land of Leopards', by all the ones who've visited or live here.
THE WELCOME
Once I'd reached the camp, I let out a sigh as we didn't have to go through any kind of chaos of filling out the formalities or anything like other commercial hotels. Although, the lemonade was refreshing. We were promised a relaxed stay and that is exactly what we got. As soon as we reached the camp, I felt a different kind of breeze as if it was welcoming us in its arms and calming us down with all the essence it has built over the years. I let all the positivity it carried, sink in. We were greeted by the host, Mr. Pushpendra Singh. Turning around from the parking area and there was a beautiful farm. The farm had a unique view at each time of the day. It gave perfect views of the golden and blue hours.
THE CAMP AREA
Varawal leopard camp starts with a drawing area, facing the farm on one side and a small reception area on the other. It's an open area on all the four sides. Across the drawing room is the pathway which extends itself to the camp area that we would be staying in. On the right side of the pathway is the dining area followed by the Bonfire-area. The areas on the campsite were so lavishly arranged, like in movies of Bollywood representing the era of kings.
THE LAVISH ACCOMMODATION
Amenities include accommodation in luxurious Swiss Cottage Tents, each named after the name of a leopard in Jawai; a specialty of Varawal Leopard Camp. We stayed in the tent named as 'Neelam'. Swiss Cottage Tents, specifically designed without compromising any levels of comfort. Every tent had a double-sized bed and an attached bathroom with all the necessities required. The tent also owns an area large enough to put a single-sized bed on the side. The camps were air-conditioned and had enough storage space for luggage. When they said luxurious, I didn't expect luxury to be present in every aspect of my camp. The porch outside the camp had enough sitting area with antique furniture for a one to sit and spend their solitary time by either reading a book or listening to music. I was surprised when I found myself introspecting my own life by the magic of nature!
THE ORGANIC FARM WITH HOME-MADE FOOD
When my friend first mentioned 'camps', I was worried that I might have to cook noodles or prepare 'Chai' for myself while my stay at the camp, but I was surprised by the delicacies Varawal laid out for us. On our stay at Varawal Leopard Camp, Jawai, we got a chance to taste the delicious home-made Rajasthani food, directly from the kitchen of the host's mother. Staying in hostels, I've acquired a craving towards home-made food. All the required spices and vegetables too are grown on their own farm that surrounds the camp. Everything around there was natural and organic.
THRILLING SAFARIS
Safaris are a specialty of Jawai and the knowledge of trackers and drivers who led us to spotting leopards made it a lot more interesting. Varawal Leopard Camp has a tremendous staff with excellent knowledge in this area. The drivers and trackers plan safari accordingly such that leopard spotting is guaranteed. Their knowledge of spotting a leopard at a particular time is commendable. Trackers trace the paw prints of various wild animals to spot their presence. They, themselves are working towards the conservation of leopards and other wildlife in Jawai, along with Mr. Pushpendra.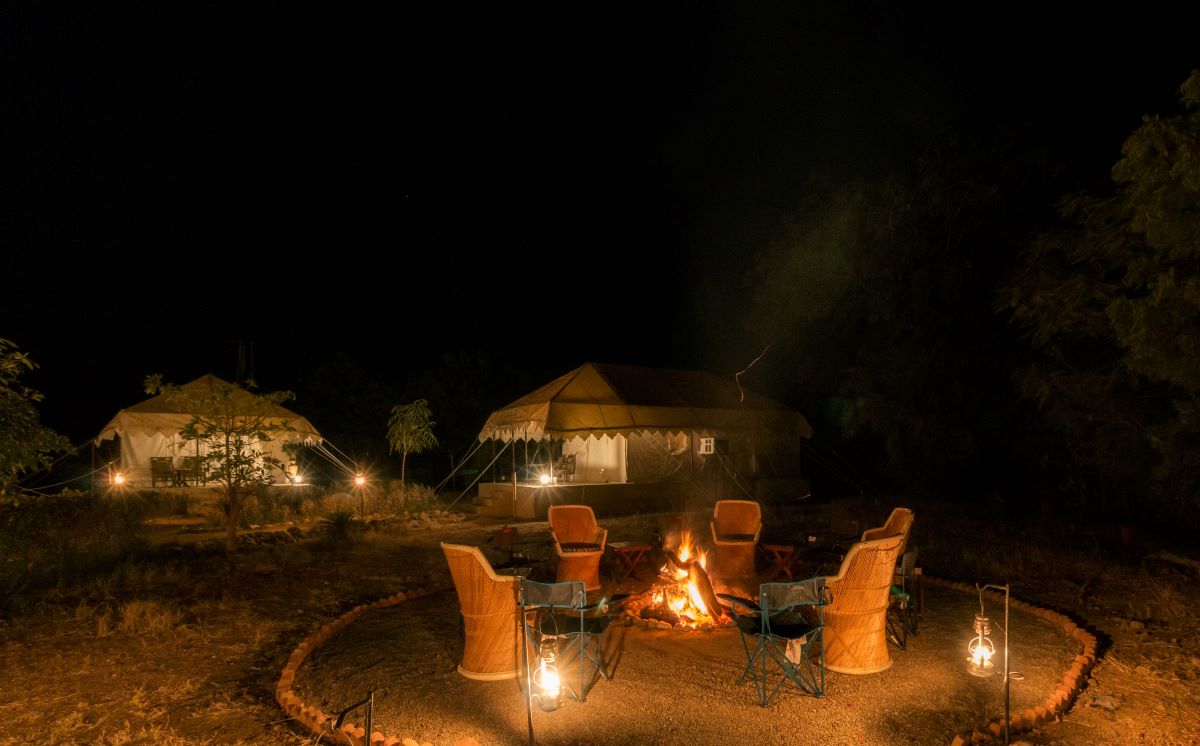 THE NIGHT SHOW
In the evening, after the safaris ended, Mr. Pushpendra showed us clips of Leopards' fighting with each other, or with the hyena sometimes, that he has himself recorded. He has videos of various other wild species that are found in Jawai. He is an enthusiast and has gained reputation as a conservationist in the area. I was personally amazed to hear the mind-blowing stories he shared with us. We enjoyed these stories and listened to the kind of experience that he has undergone during these years, over drinks and bonfire.
The radiant night sky with the dazzling stars added to the beauty of the enthralling camp.
A GREAT EXPERIENCE!
All in all, I was delighted with the hospitality and the experience. I'd only say that, Varawal Leopard Camp, not only promises you a dream holiday but will also add a different meaning to your life. The stories and views that nature reveals here to you are a feast for both eyes and ears. This place holds the power of healing any heart and soul by mere forces of nature without binding the body to anything. If peace exists, it exists here!
People living at Varawal are definitely one of the luckiest, as this place is heaven!
Visit www.varawalleopardcamp.com soon or book your stay at bookvarawal@gmail.com
You can even WhatsApp them on +91 7742133581
It's beautiful, and very much affordable. Plus, people at Varawal Leopard Camp are very professional and friendly.
I am an engineering student with a developed passion of writing over the years. I love to scribble mostly about my own experiences. I stand strong on the belief that writing can a make a person vulnerable and resilient at the same time. My strongest urge to write what I feel is undeniably resolute. Loves to explore books, music and stories at anytime of the day.