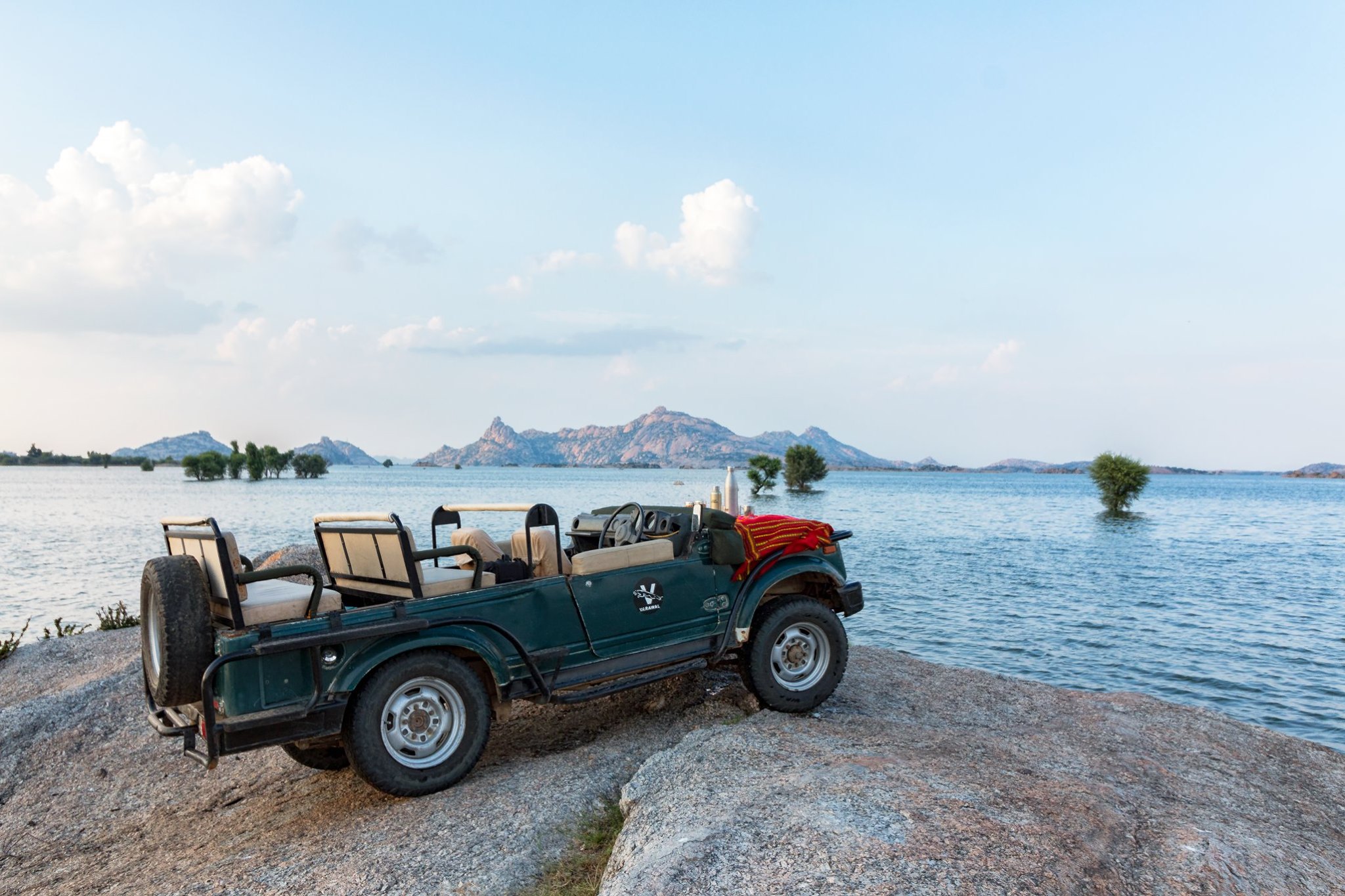 BEST WILDLIFE DESTINATIONS IN RAJASTHAN!
Seeking out a place to observe authentic wildlife in the arms of nature? Here are the top wildlife destinations in Rajasthan.
The TIGER ABODE~ RANTHAMBORE NATIONAL PARK, SAWAI MADHOPUR
Talk about wildlife, and your trip will be incomplete without watching the "King of Jungle~ Tiger." Ranthambore National Park, located in the Sawaimadhopur district of Rajasthan is famous for its population of tigers. One of the best and largest places in Rajasthan to see tigers in their natural habitat. The forest is incorporated into the Project Tiger of 1973 and was declared a national park in 1980 by the Indian Government. The tiger reserves are small which makes it easier to spot tigers through safari. Besides tigers, there are striped hyenas, leopards, marsh crocodiles, Indian wild boar and many species of birds can also be spotted here. The park lies amidst the historical monument of Ranthambore fort that dates back to the 10th century, Padam Talao Lake~ one of the largest lakes in Rajasthan, & the second largest banyan tree of India.
Best time to visit: October to March
Contact for stay & safaris: Mumbai travelers
Saurabh Thakker: 8422049888 or E-mail – contact@mumbaitravellers.in
KEOLADEO GHANA NATIONAL PARK~ A BIRDER'S PARADISE
Also known as the Bharatpur Bird Sanctuary, this sanctuary is man-made & considered as the UNESCO World Heritage site, which is a home to 366 species of birds. Every year, thousands of birds migrate from across the globe to this sanctuary in order to escape the harsh winters. Many ornithologists, researchers, and travelers come here throughout the year to watch these birds. It is the most beautiful and calming sights to watch. When you see a flock of birds take off into the sky, the experience is breathtaking and is said to be once-in-a-lifetime. The place is also a home to many species of amphibians, turtles, lizards, fishes, and 379 floral species. While you're here on this small expedition, extend it a little and visit the Bharatpur Palace.
Best time to visit: October to February
Contact for stay & safari: Naturebureau Bharatpur
Rakesh Sharma: 9414023925 or Email: naturebureaubharatpur@gmail.com
JAWAI LEOPARD RESERVE~ THE LAND OF LEOPARDS
Famous for its unbelievable ecosystem formed by the wildlife, especially leopards and village community here. Jawai is a place that is not yet touched by globetrotters. It has a huge population of leopards that roam free. The Jawai leopard Reserve is not managed by any government organization and is solely handled by individuals. You'll find hyenas, sloth bears, blue bulls, and many bird species such as Flamingos, Bar-headed geese, Owls, Raptors, Eagles, and many more. For decades, this harmony and peace has been maintained between the wildlife & humans. Wildlife here can be observed easily & frequently all year round, but the leopard sightings are the most mesmerizing and known to leave people speechless. Along with calling this place, the 'Land of Leopards', the Jawai dam is also called as 'The Land of Flamingos'. The Jawai Dam gives one of the most surreal views ever seen.
Best time to visit: October to March
For stay & safaris, visit www.varawalleopardcamp.com or email at bookvarawal@gmail.com
You can even WhatsApp them on +91 7742133581
DESERT NATIONAL PARK~ GREAT INDIAN BUSTARD FOUND!
If you're looking for mesmerizing beauty, this is the perfect place for you. You'll find the endangered Great Indian Bustard here. This desert park is one of the largest parks in Rajasthan and is located in the districts of Barmer and Jaisalmer. The Indian Bustard which migrates to different places in different seasons can be spotted here in a fair amount of numbers. The park is an excellent example of the ecosystem of the Thar Desert. Sand dunes form around 20% of the park. Many eagles, harriers, falcons, buzzards, kestrel, and vultures are also spotted here. Sand grouse are spotted near small ponds or lakes. The place is best for visits in the winter season. On your expedition here, visit the golden city of Jaisalmer too. The historical Jaisalmer fort is considered one of the "living forts" in the world.
Best time to visit: October to March
For stays & safaris: Ursh Khan – 9521652660
MOUNT ABU WILDLIFE SANCTUARY~ GREAT MUNIA SPOTTED!
Famous for reaching the altitude of 5650ft, the highest in Aravalli ranges. The point is known as Guru Shikhar and has a major tourist attraction across the country. This particular wildlife sanctuary is known for its rich diversity in flora and fauna. Mount Abu Wildlife Sanctuary is a habitat for 157 species of monocots & 663 species of dicots. The rare bird species of Green Munia is found here. The sanctuary is a part of Kathiawar-Gir dry deciduous forests ecoregion. The igneous rocks have formed in such a way that huge caves have built naturally and are home to a wide range of wildlife such as Indian leopard, Jackal, Langur, Mongoose, Hedgehog, and many others. Many other adventurous activities such as trekking, safari, hiking can be experienced here.
Best time to visit: October to March.
For stay & safaris, contact: Hiking and Trekking company Mount Abu
Mr. Narayan: 8219721890 or Email at: a.andy091@gmail.com
TAL CHAPPAR SANCTUARY~ MIGRATORY RAPTORS?
Famous for blackbucks and a huge variety of raptors. For those who don't know, raptors are birds of prey. It is located in the Churu district of Rajasthan, on the road from Ratangarh to Sujangarh. It is a refugee to the blackbuck. Various migratory birds of the raptor's family such as harriers which are known to pass this area in the month of September. Birds such as eastern imperial eagle, short-toed eagle, tawny eagle, all belonging to the family of birds of prey can be found here are known to stay here till March. Other birds such as sparrows, little green bee-eaters, black ibis, and cranes can also be seen. Skylarks and ring doves are seen here throughout the year. This place is really hot in the summer season with the highest temperature of 48°C and very cold in winters with 10°C.
Best time to Visit: November to February
For stay & safaris, contact: Naturebureau Bharatpur
Rakesh Sharma: 9414023925 or email at: naturebureaubharatpur@gmail.com
I am an engineering student with a developed passion of writing over the years. I love to scribble mostly about my own experiences. I stand strong on the belief that writing can a make a person vulnerable and resilient at the same time. My strongest urge to write what I feel is undeniably resolute. Loves to explore books, music and stories at anytime of the day.