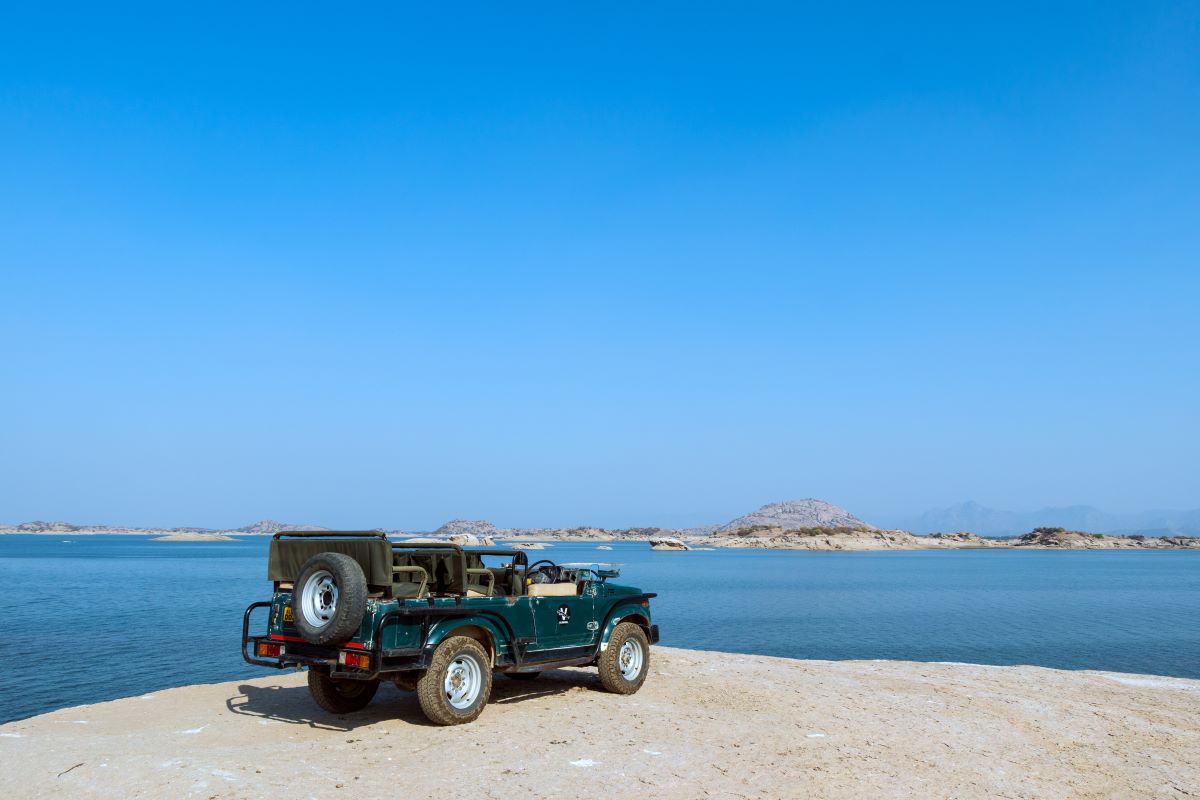 How Leopard Safari operates in Jawai?
"Seize your opportunities like the leopard pounces on its prey, and hunts it down"
~Shivani Narang
This big cat symbolizes strength and power, with chivalric features like none other. Well, while being on a Leopard safari in Jawai, you'd certainly want it to go smoothly. Leopard safaris are arranged in a way such that you don't have to stay in one particular area even if the leopard is not in a mood to show up. Unlike other wildlife sanctuaries in India and national parks in India, there aren't any zones or areas that you'd be allotted to spot leopards or other wild animals. So, you don't have to depend on a single leopard to spot when there is a huge population of them in Jawai. You can go around the villages and spot a wide range of them without any disappointment.
The safaris cover various routes when it comes to spotting wildlife, exceptionally leopards. There are numerous spots in the distance range of 5km-25km from varawal. Every safari lasts for 3 hours and has slight difference in timings between summers and winters. During summers, the jawai leopard safaritimings are 5-8 AM/PM in the morning/evening respectively. However, during winters, the timings are 5:30AM-8:30AM & 4:30PM-7:30PM in morning & evening respectively. The timings can also be customized according to your requirement.
All the safaris of Varawal leopard Camp are performed under my supervision. I've appointed numerous trackers to track down every movement of the leopard. All these trackers patrol around the village appointed to them, every day and track them through their paw prints or their caves or any particular characteristic that they come across. I have, personally, spotted 64 leopards in Jawai till now. However, the trackers are a great deal when it comes to making your safari memorable.
Throughout the year (I.e., 365 days), the trackers patrol through the jungle and find various trends and characteristic of leopards. They note down every single detail (like, how many cubs they have? How long does each leopard sit out of the cave? Timings of their resting period? For how long do they disappear? With whom they mate and after how long?), that helps us understand the behavior of leopards in a better way. According to the reports and trends, leopards sit out of their caves to plan for their hunt at night. That is when their chances of spotting increases. Even when there aren't any guests or the season isn't peak, I prefer patrolling because it is the one thing that helps us in their conservation.
Another surprising element is that Jawai is a land under private ownership, not government! These leopards live on those lands in their caves. There are times when a farmer tends to close a cave to protect his farm from wild boar and porcupines. However, a tracker stops them from doing so because the cave might have cubs inside it or might be a leopard's home. We don't want even a single leopard to die.
A fact about this place is that leopards are not man-eaters here. Well, apologies to burst your myth, but humans are not a part of the food chain of leopards anywhere! It's humans, who crush their homes to dust, and that is when they retaliate. Also, the leopards in Jawai live with harmony and peace with the humans around here. The Rabari community has been worshipping them for years now and do not disturb their lifestyle at all. Hence, there isn't any need for Guards, like in other wildlife sanctuaries in India.
Last year, I observed many people throwing stones to threaten the wildlife around and race their gypsies behind them. However, I talked to all the safari ventures and made an association to have a follow up on 'Wildlife Safari Guidelines' for safari in the area. There are a few rules that we follow and would expect you to do the same:
Whilst on a safari, nobody should step out of the gypsy unless approved by the host or the driver.
No gypsy is allowed to race behind a leopard.
Waste packets or papers should not be thrown on the ground.
When in the territory of the leopard, phones should be on silent and are advised to keep your voices down.
Night safaris are banned.
Using spotlights is prohibited.
The ventures of wildlife safari help people get paid for they do. It provides employment opportunities to them without having to put in extra effort. Tracking down the wildlife while living in Jawai is a chore that everyone takes care of. This is the lifestyle of humans here, with leopards being a major part of their lives. Also, this helps them stay connected to their culture and their foundational roots. This is moreover, everything on how leopard safari operates at Varawal Leopard Camp. Give us a chance to host you!
Visit www.varawalleopardcamp.com soon or book your stay at bookvarawal@gmail.com
You can even WhatsApp us on +91 7742133581
I believe in serving wildlife and nature. If I am allowed to live on earth, the wildlife should too. From 6 years I have been keenly observing & studying the Leopards behavior and have gained recognition as a naturalist. I personally take care of everything when YOU are here. Its bold and beautiful life here in the wild, come and explore India's Leopard hills of Jawai with us!